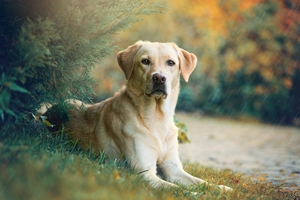 All dogs residing in the City of Watertown must be licensed by the age of 4 months. Licenses are good for one year from the month of application and are renewable annually. Renewal reminders will be mailed to the owner one month prior to the expiration of the dog license.
License fees (annual)
$15 if the dog has been spayed or neutered
$25 if the dog has not been spayed or neutered
Fee Exemptions are issued to any guide dog, service dog, hearing dog, detection dog, search dog, working dog or therapy dog upon proof of a formal training program, statement from a medical provider stating the owner requires a service dog to assist with a disability, or a statement from a veterinarian stating the dog qualifies as a service dog.
New Dog License Process
Please mail the following to the City Clerk's Office or place in an envelope addressed to the "City Clerk" in the City Hall Drop Box located at the Sterling Street entrance to the building:
Proof of current rabies immunization
Proof that the dog is spayed or neutered, if applicable
Appropriate fee
The owner and address on the Rabies Certificate and/or the Spayed or Neutered Certificate should match and will be used as the information for the owner of the dog. If this is different or not the owner's information, please submit a written explanation (to be kept on file) and provide the correct information.
Renewal Licenses
Dog licenses can be renewed online, through the mail or the City Hall Drop Box located at the Sterling Street entrance to the building.
Online Renewal can be processed if proof of current rabies immunization is already on file, and it can be paid by credit card (MasterCard, Visa, Discover or American Express). A nominal convenience fee will be charged to allow for this online service (2.45% of the transaction amount or a minimum of fee of $1.75 for credit card). By clicking the link below, you will be leaving the City of Watertown's website and entering a secure processing site.
Change in Status or Information
Once the dog is licensed, please notify the City Clerk's Office if there is a change of address, phone number or status of the dog (deceased, lost, relinquished, etc) by using the links below.
Update Address/Contact Information Update Status of Dog
Submit Updated Rabies Certificate
Submit Updated Spayed or Neutered Certificate
Transferring Dog Ownership
When dog ownership is transferred from one person to another, the original owner will need to provide a statement in writing authorizing this transfer. The new owner will need to obtain a dog license in his or her name, even if the dog is currently licensed.