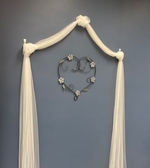 The City Clerk's Office has Marriage Officers on staff to perform Wedding Ceremonies at City Hall.  Ceremonies are performed in the City Clerk's Office or outdoors in the gazebo situated between City Hall and the Library (weather permitting).  
Appointments can be made while the couple is obtaining the Marriage License or by calling the City Clerk's Office at (315) 785-7780.  
Wedding Ceremonies are performed Monday through Friday during the hours 9:00 a.m. – 3:30 p.m. and the fee is $70.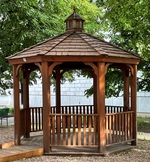 Ceremonies can be performed for Marriage Licenses that were obtained from any municipality within New York State. However, if the Marriage License was purchased in the Watertown City Clerk's Office, the couple will receive their certified documents immediately following the ceremony.
For more information about obtaining a Marriage License, please click here.