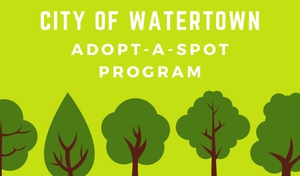 Through the City of Watertown's "Adopt-A-Spot" program, residents of all ages can play an important role in caring for local parks, traffic islands, medians and other similar spaces and in turn, improve quality of life and beautify our local community.
Working with the City of Watertown, individuals, families, groups, businesses and organizations can "adopt" a park or other public space in the City. 
Adopt-a-Spot participants commit to cleaning their park or public space at least once a month and, if able to and with approval from the City, beautify the space through the planting and maintenance of flowers or greenery. Typical activities include: 
Picking up trash
Raking
Pulling weeds
Mulching trees
Planting flowers
Reporting any hazards to city staff
Reporting graffiti or vandalism to city staff 
Adoption terms are one calendar year with the option to extend if desired.
For more information, please read about the full program at the following link - Adopt-A-Spot Program
Anyone interested in participating should complete the following application form - Adopt A Spot Application Form